Fort Belvoir Oktoberfest
Your At Home Team is Proud to be
Fort Belvoir's 22nd Annual Oktoberfest Title Sponsor**

Dust off your stein, loosen your lederhosen... It's Oktoberfest!
Enjoy one of the most anticipated events of the year, Fort Belvoir's 22nd Annual Oktoberfest at Fremont Field! Oktoberfest is a four-day festival, highlighting authentic German food, beverages, music, and dancing! Enjoy an exciting carnival, the Volksmarch 10K Walk, keg tapping ceremony, kinder korner activities, vendor market, prize raffles, and more! A fun-filled weekend for the whole family! Sunday is Military Appreciation Day.
The event is open to the public, 100% ID Check, with free entry to Fremont Field. Animals are not permitted on Freemont Field.
---

OKTOBERFEST HOURS & UNLIMITED RIDE WRISTBAND COST
Thurs / Sept 27, 2018 / 6-10 pm / $20




Fri / Sept 28, 2018 / 4-11 pm / $25




Sat / Sept 29, 2018 / Noon-11 pm / $30




Sun / Sept 30, 2018 / Noon-8 pm / $25** Military Appreciation Day - Active Duty $15



Fremont Field, Fort Belvoir, Virginia
Click here for Map via Tulley Gate.
Individual ride tickets are available.
*** Sunday is Military Appreciation Day - Discounted Tickets
Active Duty and family members can pick up a $10 off coupon inside the gates at the ticket booth; bringing the wristband price to $15 for Military and family members.

DAILY TICKETS
While wristbands provide all-day unlimited rides, you may purchase single tickets. Each ride displays cost-per-ride.
Single Tickets / $1.50




30 tickets / $35




50 Tickets / $55
BEERS ON TAP
Enjoy a collection of Oktoberfest lagers, from the world's original Oktoberfest Beer to a soft and spicy flavor from Munich's oldest family-owned brewery. If driving, please make sure to use a designated driver.
OKTOBERFEST BEER & WINE PRICING
Beer $5 / 1 Ticket




Non-alcoholic Beer $5 / 1 Ticket




Pitcher of Beer $15 / 3 Tickets




Wine $5 / 1 Ticket




Bottle of Wine $25 / 5 Tickets
Mugs and the 22nd Annual Stein can be purchased for $10 at the register.
No mugs or steins will be filled directly from the tap. Patrons are permitted to bring any mug or stein to Oktoberfest, but they cannot be filled from the tap.
FOOD
Bring your appetite, because there will be a wide variety of food vendors, in addition to what will already be on offer at the Carnival vendors.
---

2018 OKTOBERFEST VOLKSMARCH 5K/10K
Saturday & Sunday, Sept 29 - Sept 30, 2018
Dog-Friendly and Stroller Friendly 5K/10K Volksmarch
The trail route planned for this event takes you along sidewalks and post roads on Fort Belvoir's North Post and past a cemetery. The course is largely flat with some hills. The hill slopes are not steep. The route is rated 2B due to the hills. Weather conditions should have little effect on the trail rating. Please do not bring backpacks, large bags or ice chests/coolers. All bags are subject to search. 100% ID check.

The event will take place regardless of most weather. The trail can accommodate strollers and wagons; however, they may require portaging over road curbs. The trail is unsuitable for wheelchairs.

Read the flyer for more details regarding the 2018 Oktoberfest Volksmarch 5K/10K and to register for the event.
ENTERTAINMENT SCHEDULE
Thursday - Sept 27th
Alt-Washingtonia (Dance Group) / 6-8pm
Kings Park / 6-10pm
Friday - Sept 28th
Alt-Washingtonia (Dance Group) / 5-9pm
Alte Kameraden / 4-9pm
Karaoke DJ / 9-11pm
Saturday - Sept 29th
Spinphony / 1-4pm
Alt-Washingtonia (Dance Group) / 5-9pm
Lionel Ward & The New World Band / 8-11pm
Sunday - Sept 30th
Kings Park / Noon-4pm
Down Range / 4-6pm
Spinphony / 6-8pm
BESC AUTUMN BAZAAR AND BAKE SALE
Sadly, there will not be a bazaar this year. Hopefully, it will return next year.
Visit the Belvoir Enlisted Spouses Club FB page for more info.
---

Area Map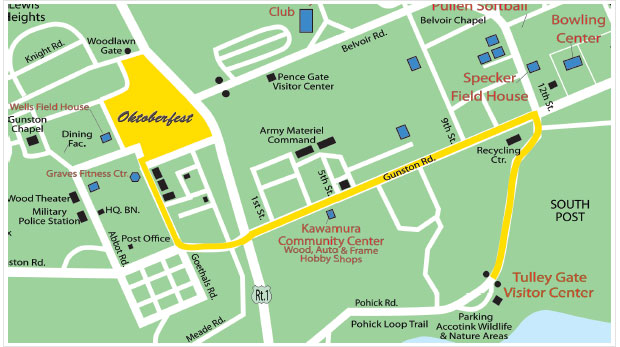 Directions To Fort Belvoir - 100% ID Check

From Washington DC (1-95 South)

If you are traveling south on 1-95, take the Fairfax Parkway/Backlick Road (7100) exit 166 A.
Take the Fairfax County Parkway to its end at U.S. Rt. 1 (Richmond Highway.) - Turn left.
At the first light, on the right, is the entrance for Tulley Gate on to Fort Belvoir.
This is the main entrance to the post and is open 24 hours a day, 7 days a week.

All visitors to Fort Belvoir MUST use Tulley Gate. Visits without a valid Military/DoD ID card must obtain a visitors pass by going to the visitors center.

From Richmond (1-95 North)

If you are traveling north on 1-95 North, take the Fort Belvoir Exit 161 B. (U.S. Rt 1 — Richmond Highway)
You will travel five miles to Fort Belvoir.
Continue through the light at the Fairfax County Parkway (VA 286), get in the right lane. At the next stop light, you will see the entrance for Tulley Gate, turn right.

Gate Information

All visitors must come in via Tulley Gate.
**Sponsorship does not imply DOD, the U.S. Army, Federal Government, or Fort Belvoir endorsement.